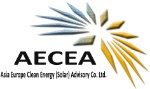 About Us

Frank Haugwitz is an independent solar energy consultant based in Beijing since 2002. He is an industrial mechanic by profession with a degree in Applied Business Languages (Sinology) and International Business Management. The native German has been working as a seconded long-term expert on photovoltaic and renewable energy projects in China supported by Germany and the European Union between 2002-2009.
Since then he has been consulting foreign enterprises and international organizations on the development of renewable energies in general and solar / photovoltaic in particular in China. In this capacity since early 2010 he works for the organizer of Intersolar as their Head of Conference Development.
In October 2012 he founded his company "Asia Europe Clean Energy (Solar) Advisory Co. Ltd. (AECEA). His services include working with individual clients to apply his extensive China photovoltaic energy-focused insights to their specific needs. Industry experience and in-depth analysis shall assist strategy development and corporate decision making. Focus is on the regulatory framework conditions, policy, as well market and business development. His advisory services provide objective and independent research.

Vivienne Lee, 31, obtained a degree in Intl. Studies from the Xian University / Shaanxi Province. A native Chinese has obtained extensive solar market research experience since autumn 2010. Her focus is the Chinese domestic solar / photovoltaic market.