Get the Most Comprehensive and Reliable Global PV Market Outlook available to date!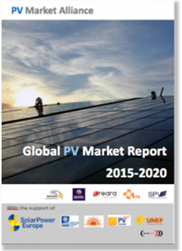 Take advantage of the early bird rate until 31 July 2015 !
Standard license: USD 2.499
Early bird license: USD 2.249
View Brochure | View Table of Contents | View the Press Presentation
Grouping leading PV experts from around the globe, the PV Market Alliance has direct access to both local and regional market data and capitalises on an advanced understanding of policy developments affecting PV across the globe.
This makes the PVMA Global PV Market Report probably the most reliable and comprehensive global market analysis available to date.
The "PV Market Alliance" includes:
▪ Asia Europe Clean Energy (Solar) Advisory Co. Ltd. (AECEA),
Hong Kong, China
▪ Becquerel Institute, Brussels, Belgium
▪ Creara (formerly Eclareon Spain), Madrid, Spain
▪ RTS Corporation, Tokyo, Japan
▪ SPV Market Research, San Jose – CA, USA
The PV Market Alliance is supported by the following PV associations: